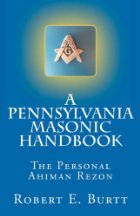 This book answers questions that many new Freemasons have asked themselves: "What do I do now? What are my options in the Brotherhood? Where can I contribute my talents?" Too often, new members are left to search on their own. "A Pennsylvania Masonic Handbook" offers practical advice on lodge membership, covers ritual, and gives thumbnail explanations of Masonic customs and practices within the jurisdiction of The Grand Lodge of Pennsylvania. It also is of interest for worldwide Freemasons seeking knowledge about the customs and history of the largest U.S. Grand Lodge. Furthermore it contains much that would interest the general reader seeking information about Freemasonry.Most Masonic literature is not worth the average Brother's time. Much of it is pure speculation or random musings. Depending on your depth of imagination, one can spend an inordinate amount of time talking and speculating, about the symbols of our order. How many times can you read books that contain one man's theories about the Square and Compasses? After a while, everyone starts to repeat each another. On the contrary "A Pennsylvania Masonic Handbook" is really useful because it gives a basic treatment of Masonic symbolism as it pertains to Pennsylvania, with a minimum of personal, private theories.
This book apparently is easy to read, but please read it several times because each time you discover something new.
Binding Paperback
146 pages
$9.95 at Amazon.com
ISBN: 9781456323974
Publisher: Createspace, 2012
Share our Book-Reviews!